The Minneapolis/St. Paul (MN) Chapter's thirty-one year Debutante Program began in 1981. Chapter members wanted to provide this developmental, coming-of-age event to local young women in their senior year of high school. The cotillion was part services to youth program and part fundraiser. Proceeds from the debutante ball helped fund scholarships and other community programming.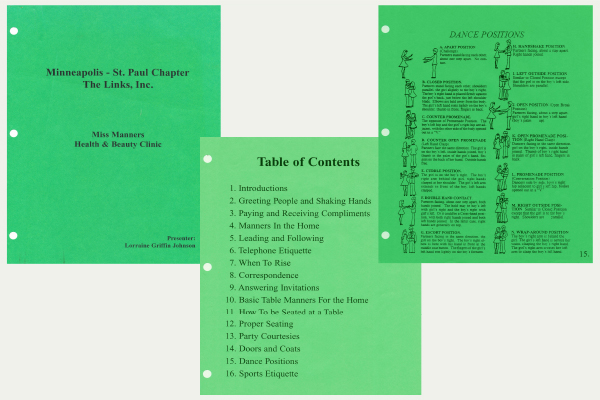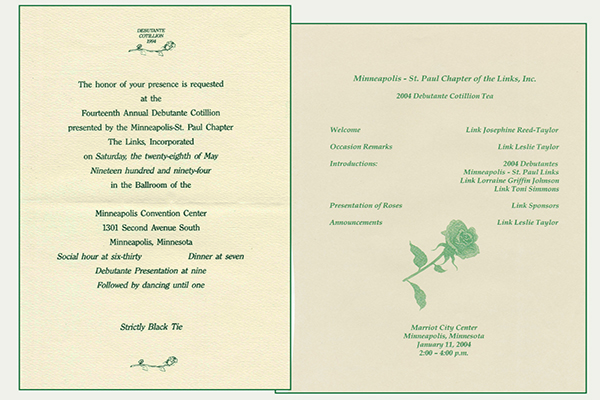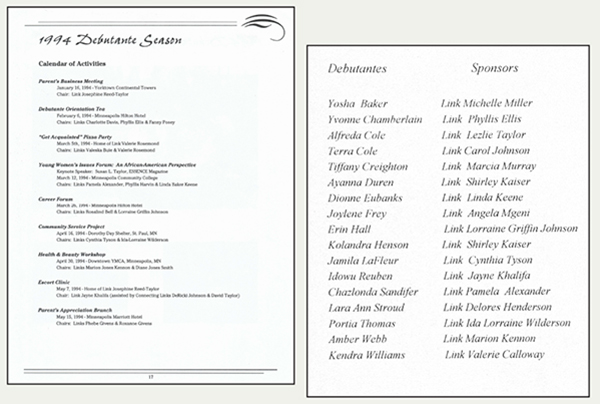 The debutante experience lasted approximately six months. During the program, young women, each sponsored by a chapter member, attended a variety of events all designed to prepare them for the cotillion ball and for the next stages of their college and professional life. The Debutantes attended etiquette classes, learned to waltz, enjoyed a formal tea, participated in women's issues seminars, attended a career fair, learned skills to navigate successfully in college and in the workplace, and completed a community service project.
The culminating event was the formal cotillion ball. The young women, dressed in white gowns and gloves, were escorted into the event and presented to the room filled with friends, family, and community. Each young woman was recognized, and her current achievements and future ambitions were celebrated by all those present. Many who participated in the debutante program were one of very few people of African ancestry in their high schools. They cherished the opportunity to form friendships with each other and Links members. These bonds often lasted into college and through adult life.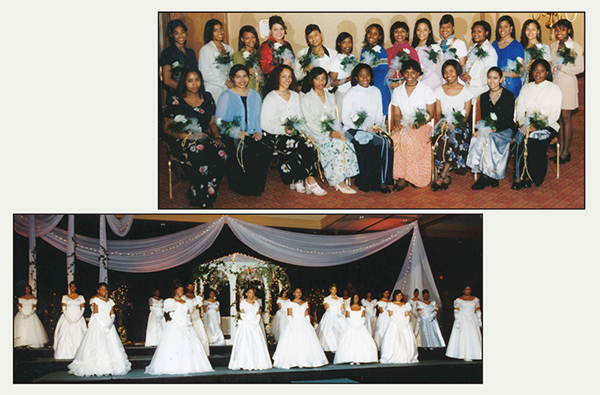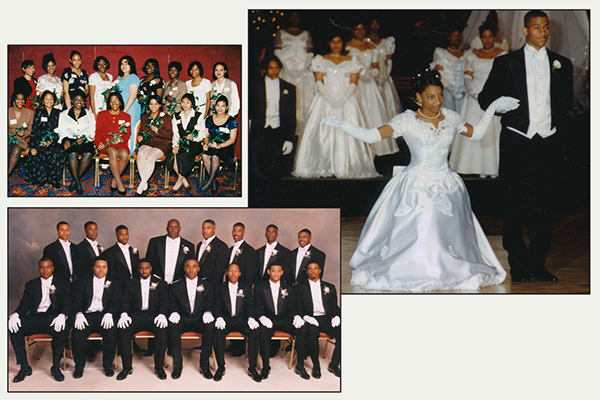 "I was one of four Black students in my school. This was a corrective experience for me. It gave me time to not feel different, instead to feel empowered and beautiful surrounded by my peers and supportive Black women".
– Illysha Minor, Class of 2008; now Critical Care Administrator, Wellstar Health System, Atlanta.
"It was an opportunity to meet other Black girls and professional women where we felt valued and special and beautiful."
– Batala McFarlane, Class of 1992; now publisher of Insight News, Minneapolis.
Next Page: Young Women's Issues Forum