Linked In Friendship, Connected in Service
Racial discrimination in Philadelphia was pervasive in both employment and housing and World War II brought new urgency to the struggle for civil rights. In 1945, the Philadelphia NAACP (National Association for the Advancement of Colored People) had grown to 16,700 members, making it one of the largest NAACP chapters in the country. In 1942, the NAACP joined the Fellowship Commission, a new coalition of civil rights, civil liberties, and religious groups established to coordinate efforts to combat racial and religious bias in Philadelphia.
In reaction to social, economic, and political struggles for African American civil rights, Margaret Roswell Hawkins and Sarah Strickland Scott co-founded The Links, Incorporated in Philadelphia on November 9, 1946. Today, The Links, Incorporated is an international, not-for-profit corporation consisting of more than 16,000 professional women of African descent. There are 292 chapters in 41 states, the District of Columbia, the Commonwealth of the Bahamas, and the United Kingdom.
The Links, Incorporated is one of this nation's oldest and largest volunteer service organizations. These extraordinary women are commited to enriching, sustaining, and ensuring the cultural and economic survival of African Americans and other people of African ancestry.
The Links, Incorporated attracts many distinguished and accomplished women who make a difference in the community and the world. They contribute more than one million documented hours of community service annually.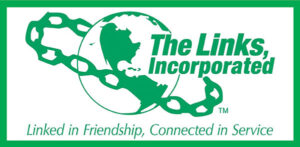 The Minneapolis/St. Paul (MN) Chapter of The Links, Incorporated was unanimously approved by the Central Area on April 14, 1972 and at the 18th National General Assembly, June 26-July 1,1972 in New Orleans, Louisiana.
The Minneapolis/St. Paul (MN) Chapter charter members are Wilma Allison (Moore), Leonora Charles, Rosemary Davis, Christine Dunham, Phyllis Ellis, Jean Hudson, Joyce Jackson, Shirley Kaiser, Marion Kennon, LaRue McClung, Sandra McGee, Wenda Moore, Diane Jones (Smith), Beverly Thompson, Cynthia Tyson, and Ida-Lorraine Wilderson.
The chartering ceremony took place on December 10, 1972 at the home of Phyllis Ellis and Cassius Ellis, III, M.D. A celebratory after party took place at the home of Marion Kennon and Rozmond Kennon, Sr.
The first official meeting of the Minneapolis/St. Paul (MN) Chapter of The Links, Incorporated was held at the home of Rosemary Davis in January 1973. The chapter elected officers:
President – Marion Kennon
Vice President – Rosemary Davis
Corresponding Secretary – Diane Jones (Smith)
Treasurer – Beverly Thompson
During the first year, the members enjoyed being together and usually had a "social" after the regular business meeting. The first public program was a reception in honor of two African-American educators: Dr. Marvin Trammel, West Area Superintendent with the Minneapolis Public Schools and Dr. Joyce Taborn Jackson, the first Black female secondary-level principal with the Minneapolis Public schools.